The Lionheart Tales explores many different emotions and feelings children can experience at different stages throughout their life. All the residents of Lionheart Town have their own personalities and have forged relationships with other residents of the Town that may resonate with your child. The following section highlights some of the key themes that feature in The Lionheart Tales.
Family & Community
Family comes in all shapes, sizes and colours! The Lionheart Tales explores many different family groups that many children can identify with. Whether it's The Lion Family with Arthur, Saffy and their daughter Lily-May, or Miss Jessie our single parent who has adopted Bella the Rhino, many of these family relationships can resonate with your own home environment.

Lionheart Town is a community where everyone is welcome, all the residents have strong friendships and will always be there for their friends in any situation. Arthur and his friends believe it is important to teach the kids in Lionheart some important lessons that will help them at different stages of their life. All the residents of Lionheart Town have their own personalities and everyone can learn something from each other!
Finding Courage
Our resident elephant, Benji has a heart of gold and is always there for his friends. However, as a timid elephant he does experience the 'tummy flutter byes'. With the help of Monty, Benji comes to understand he is feeling nervous because he has to do a 'Show and Tell' at school. Sometimes your child may experience the tummy tickles so it is important to talk to children about their feelings.

Here are some great tips to help your child find their courage:
Try something new. Benji's friends were determined to help him find his courage and encouraged him to go into Echo Caves to find it. At first he was scared to go in, but when he knew his friends needed him he went straight in without worrying about the end result.

Talk positively. Focus on using positive language and emphasise the things children can do, rather than what they can't.

Be a great example. Talk about times you have been nervous and how you found your courage.

Read our great Blog in collaboration with Place2Be HERE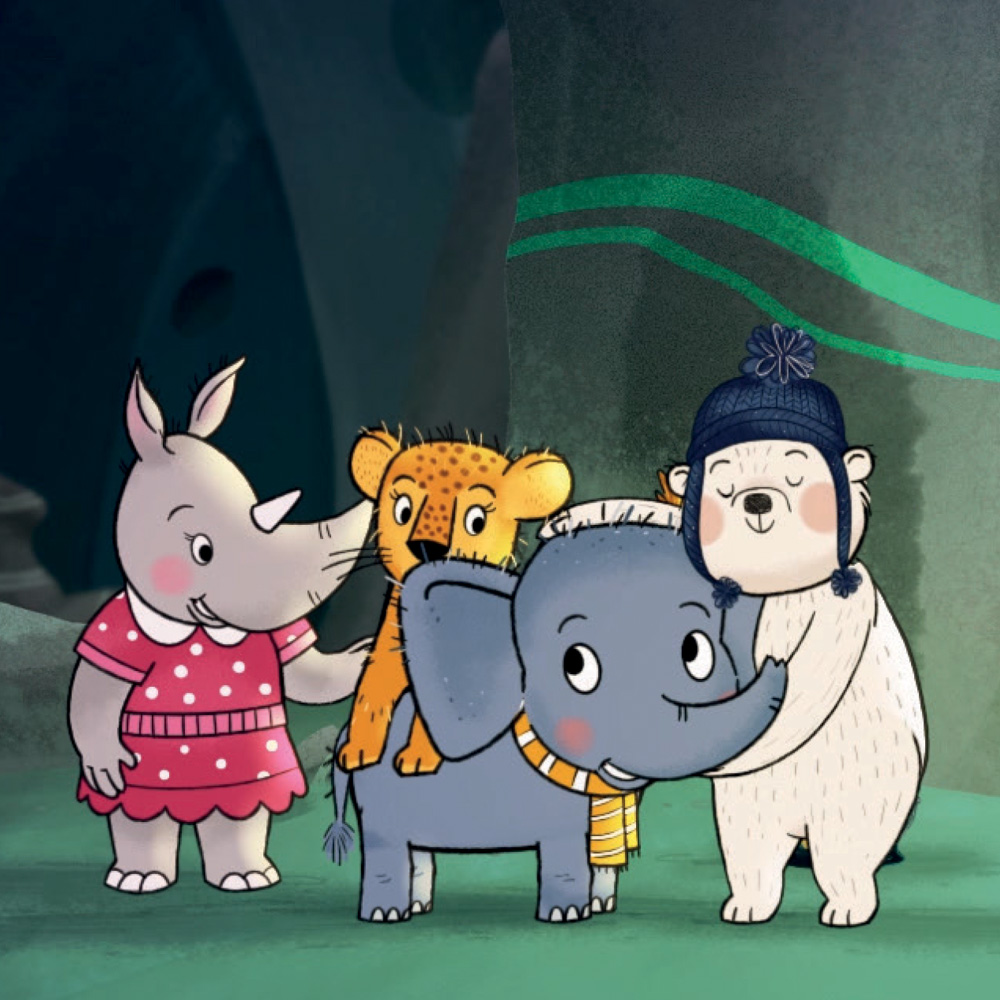 Believing in Dreams
Children have a great imagination and these free thinking minds allow them to believe in dreams! After listening to Gerald's special song, our lion cub Lily-May was so excited about shooting stars she wanted to stay up all night to see one and make a wish. However, Bella, our studious rhino did her research and came to understand that shooting stars don't grant wishes. Undeterred, Lily-May still believed and was determined to make a wish! This innocent wonderment can encourage them to explore their creativity.

Here are some great tips to encourage creativity in children:
Encouraging story time. Stories help childrens imaginations run wild! By listening to stories it enables creative juices to flow. The Lionheart Tales selection of story books are a great way to develop this, and are also great for reading practice!
Encourage their dreams. Sometimes your child will believe in something that another doesn't. Just like Bella didn't believe in shooting star wishes and Lily-May did, it is important to explain to children that sometimes people won't agree with them and that is okay. They should try and support their friends even if their views are different to their own.
Watch The Lionheart Tales! Pre-school animations are engaging for children from a young age. The colours and characters attract their attention whilst sharing heart-warming stories.
Buy our Lionheart Tales Story Books HERE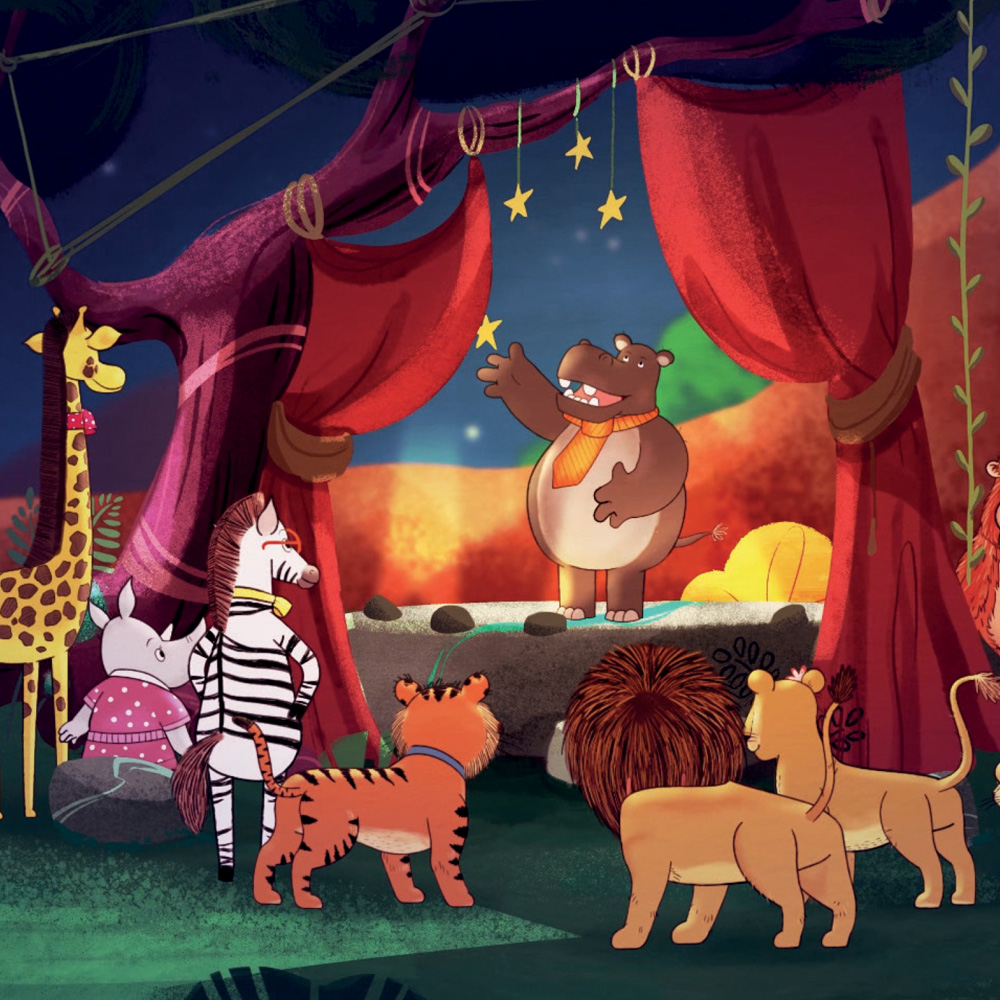 Performing and expressing yourself
Lionheart Town is not short of grand performers, whether it's our resident theatre star Gerald the hippo, or our Olympic Medallist Monty the tiger, all the residents have their own unique ways to express themselves. Encouraging creative hobbies in your child offers many benefits including developing key motor skills, encouraging teamwork and building confidence.

Here are some of the favourite extra-curricular activities we love from Lionheart Town:

Singing and Dancing. Gerald and Lily-May are big performers and they fulyl endorse singing and dancing! This is a great way for children to express themselves, and also a great way to burn some of that never-ending energy they have!

Outdoor Sports.  As an Olympic gold medallist, Monty started training at a very young age! Outdoor sport not only developed Monty's stamina, but also built his confidence and encouraged teamwork!

Cooking and Baking. Alfie, our resident chef loves cooking up a storm at The Hearty Lunch Bistro. Always trying new recipes and sharing them with his friends (taste-testers!), Alfie really comes alive in the kitchen! If your child shows an interest in cooking or baking, download some of our great recipes HERE and try these out!

Download our FREE activities HERE
Encouraging Teamwork
Mr Jasper and Miss Jessie, Lionheart Town's resident teachers are always imparting their wisdom on the children (and adults!) in Lionheart Town. One of the key lessons they like to share is the importance of teamwork. When Ralphy went splishety-splashety all over Lionheart Town, his friends rallied round and helped him tidy up.

Highlighting the importance of teamwork in your child provides great lessons including listening to others and taking instructions.
Outdoor Play
Lionheart Town is a beautiful town, where nature is everyone's best friend! The residents are always enjoying the outdoors, especially Bella, Benji, Lily-May and Ralphy! Outdoor play has many health and social benefits and The Lionheart Tales encourages outdoor play from an early age.
Mr Jasper encourages outdoor play as it is supports problems solving skills and helps get ideas flowing! It can also help develop your child's imagination and encourage teamwork when playing together.
Read more about the benefits of outdoor play on our blog HERE